Sorry for disappearing yesterday, guys! I hope all three of you who actually read my blog weren't too traumatized. :P
Last night, my laptop was being a diva and just refused to receive the signal for our router, while all my other roommates were using the internet just fine. Let's hope it'll co-operate from now on, or else I might lose the will to live. I had no hot water in France and now in Spain I have a faulty internet connection, paired with a crappy computer. Yay.
But enough whining from me now - let's focus on happier thoughts. Like Christmas!
I've decided that for Christmas I want a harem full of fútbolistas.
Okay, okay, that's a little greedy...I guess I'll settle for just one. But which one?
Since moving here, I've developed a penchant for footies, much to my mama's chagrin - "Hmph! Uncouth, boorish sports brutes!" she snorts disdainfully whenever I gush about my new favourites. Mama likes'em tall, lanky and scholarly; I like them handsome and athletic. I know, I know, I'm incurably shallow!
It must be because fútbol is such a way of life here, even more than hockey is in Canada. It's incomparable. The atmosphere in Spain is unparalleled, when it comes to watching soccer games (as long as you're cheering for the "right" teams). You can literally hear and feel the whole country watching with you when important games are going on. Everyone loves the game, everyone talks about the players - it's just deeply engrained in the culture here. Like Quidditch in Harry Potter. :P
So I've become affected by osmosis. As a result, I've been spending lots of time reading the smashingly delightful blog that is
Kickette
- it's right up my alley and has introduced me to lots of beautiful players I've never heard of before. Go check it out if you're into footballers, too!
In the meantime, help me figure out who to ask Santa for this year. As much as it pains and mortifies me to admit this, I used to have a thing for Cristiano Ronaldo (my boy best friend tells me I had a thing for Beat-Me-Face, consequently) - but then he started plucking his eyebrows and turning orange and being douchier and douchier, so that flame died very naturally.
However, I still have a thing for his national team teammate, Hugo Viana: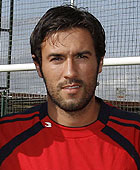 Frenchman Yoann Gourcuff is also very worthy of noting:
As is Dutchman Robin van Persie:
Despite all this, I find that, possibly because I've been living here, Spain has the handsomest footies, such as:
Fernando Llorente
Xavi Alonso
and
Iker Casillas
So...who should it be? :P